Available positions for SEB's International Trainee Programme
Exciting job opportunities in SEB's International Trainee Programme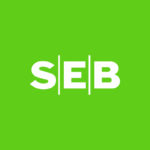 TNG is SEB's recruitment partner. We will carry out an unbiased recruitment where we will focus on your skills and potential as a trainee. This is to ensure that you have a fair and positive experience.
The next application period opens in November 2021, with a programme start in September 2022. During the application period you can apply for the positions that best suit your ambitions and profile via each job post below. Best of luck!
Psst. If you are interested in a career within tech or IT at SEB we also recommend you to check out the positions for SEB's Tech Programme.