In the brief period since December 2018 to February 2019, about 200 people have come to TNG's offices to a test pilot and be interviewed by Tengai—the world's first-ever unbiased interview robot. After concluding Tengai's test phase, TNG is now transitioning to the next stage of the development process. As we take this step forward, we would like to say a big thank you to everyone who volunteered as test candidates for the project. Your contributions mean that, together, we can now take the next step in achieving unbiased recruitment and help promote a more sustainable job market.
Tengai Unbiased, the collaborative project devised by TNG and Furhat Robotics (a tech startup that began at Stockholm's KTH Royal Institute of Technology), was launched during the summer of 2018. Its aim? To develop the world's first-ever unbiased social interview robot; a tool to help make the recruitment process fairer for every jobseeker and give all candidates a level playing field during job interviews, regardless of their age, gender, origin, or appearance. Tengai also aims to lighten human recruiters' administrative workload, allowing them to spend more time on personal interaction with job candidates.
A new and more honest candidate experience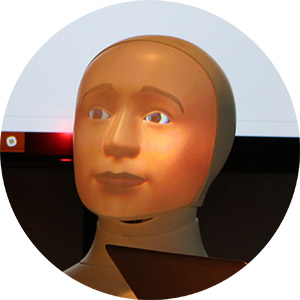 For Tengai to harmonize with TNG's unbiased, competency-based recruitment methodology, we first needed to train the robot to conduct unbiased interviews. With this in mind, during the fall of 2018 we advertised for test subjects who were willing to be among the first people in the world to be interviewed by a social recruiter robot, and at the same time support research in the field. Naturally, everyone was welcome to apply.
Interest in the project proved to be significant, and the test candidates' reactions were predominantly positive. In fact, a full 76 percent said they would recommend using robots in recruitment contexts to others and would like to participate in an interview again, according to the results of our follow-up survey.
Over half of the test participants also said they felt they could give more honest and factual answers to Tengai than in a normal interview, as they didn't have to take into account the recruiter's body language or response and adjust their answers to what they felt would be what the recruiter or hiring manager wanted to hear.
This figure is significantly higher than the 32 percent who said they were open to the idea of being interviewed by a robot recruiter in TNG's job-candidate survey conducted earlier in 2018.
Our test candidates have also provided a good deal of valuable feedback, giving us new insights and perspectives and helping us make Tengai as human as possible. We plan to share more about our experience with developing Tengai in May, when we take part in the TAtechEurope 2019 conference in Lisbon, Portugal.
Bekräfta gärna att det stämmer att det var tidigare än hösten 2018.
Our test candidates had this to say about their Tengai experience:
"I'm genuinely impressed at how natural this highly unnatural situation felt in spite of everything."

"Better than expected."

"It was so exciting to be a part of this!"

"Surreal experience."

"On the whole, it was a fun and cool experience, but different, of course."

"I also view [Tengai] as a good tool for helping recruiters and candidates give a full and accurate picture of their skills and competencies, so they can land the right job."

"Combining [Tengai] with real-life interviewers would be perfect. In other words, [Tengai is] fine to use for an initial interview."
… and from LinkedIn: